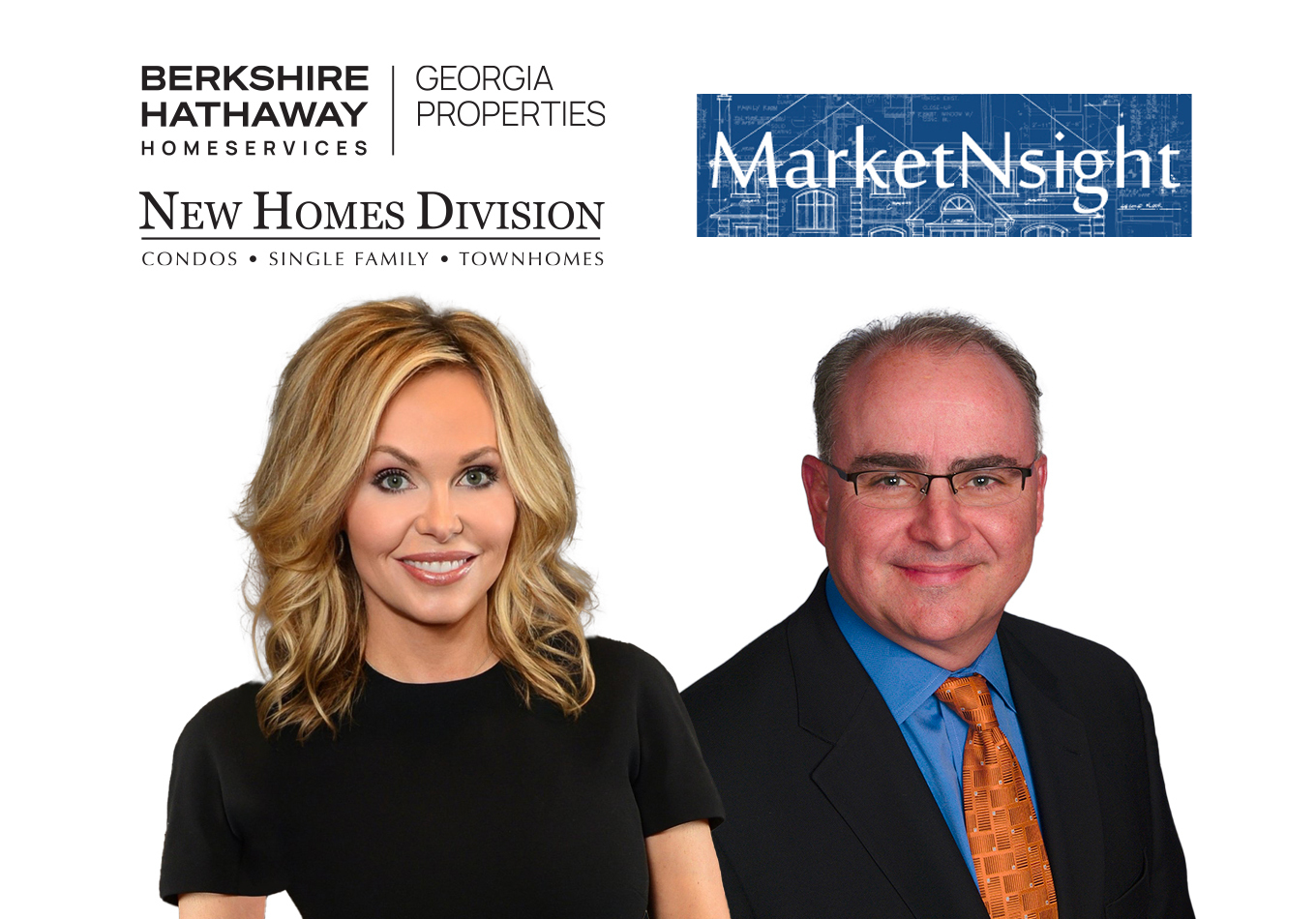 (Pictured: Lori Lane; President of the New Homes Division Berkshire Hathaway HomeServices Georgia Properties (left) John Hunt; Principal and Chief Analyst at MarketNsight (right)

The real estate arena is a complex terrain, where data-driven insights and expert analysis provide a compass for both industry players and potential homebuyers. In the dynamic landscape of Georgia's housing market, where challenges and opportunities intermingle, having a seasoned perspective is invaluable. Lori Lane, President of the New Homes Division of Berkshire Hathaway HomeServices Georgia Properties, and a prominent figure in real estate reporting, brings to light the critical factors shaping Georgia's housing future through her coverage of MarketWatch Atlanta, Georgia's premier housing forecast event,hosted by John Hunt, Principal and Chief Analyst at MarketNsight. MarketWatch is the largest housing event in the state, with more than 1,000 people registered, and it has been sponsored since its inception 17 years ago by Lori Lane and the Berkshire Hathaway HomeServices Ga New Homes Division.
Lori Lane's in-depth coverage not only sheds light on the current state of the housing market but also dissects its underlying dynamics, challenges, and potential pathways. As she navigates the nuances of Atlanta's housing landscape, her insights, backed by MarketNsight's comprehensive data, serve as a guiding light for stakeholders and aspiring homeowners alike. Join us as we delve into the expert perspective of Lori Lane and uncover the multifaceted facets of Georgia's housing scenario, unveiling opportunities and strategies that pave the way for a more equitable and promising tomorrow.
Understanding the Housing Deficit
To comprehend the magnitude of the current crisis, one must grasp the reality of the housing deficit plaguing the Atlanta metro area. MarketNsight's data reveals an annual shortage of 60,000 housing units, a staggering number that underscores the urgency of addressing this crisis. Were these units readily available, they would be snapped up within a year at the current absorption rate.
While new homes undoubtedly play a role in the housing ecosystem, they alone cannot rectify this deficit. John Hunt, the Principal and Chief Analyst at MarketNsight, reveals that around 13,000 lots may be brought to fruition over the next 12 months, but that alone won't be enough to bridge the gap. The industry must devise innovative strategies to maximize housing potential, engaging in constructive collaboration to conquer the challenges ahead.
The Stability of Georgia's Housing Market
Contrary to alarming headlines, Georgia's housing market is not teetering on the brink of collapse. Hunt reassures stakeholders that since January, home prices have remained relatively stable, averting a catastrophic plunge. Rather, he expects housing prices to return to the norm, with an annual appreciation of approximately 4.5%.
Drawing a parallel between new homes and resale pricing, Hunt indicates a mere 15% gap, suggesting that current home prices, although higher, remain within a reasonable range when viewed through historical lenses. The stability of the market is a testament to its resilience, but this should not breed complacency, as addressing the entry-level housing deficit remains a paramount priority.
Navigating the Future
While the road ahead seems arduous, the MarketNsight event resounds with optimism, offering valuable insights and forecasts to navigate the future. However, there is no denying that new lot supply remains a challenging aspect of the journey. Hunt predicts a 20% decline in permits by year-end, with builders and bankers exercising caution. Despite the deceleration in certain areas, opportunities may emerge in others, prompting a strategic reevaluation of expansion plans.
As Georgia's housing market charts its course, stakeholders must be bold in their vision, innovative in their strategies, and empathetic to the needs of their communities. The housing crisis cannot be tackled in isolation; it demands a unified effort from all vested parties, including policymakers, developers, builders, and financial institutions. Together, we can pave the way to a future where the dream of homeownership is not an elusive mirage but a tangible reality for every aspiring Georgian.
MarketNsight's update on housing data through June 2023:
Amid this ongoing analysis, MarketNsight revealed comprehensive housing data reaching through the end of June 2023. A striking observation in this update is the notable contraction in year-to-year housing inventory levels since January, resulting in a surprising negative balance in June, a trend unseen for 13 consecutive months. The months of supply (MOS) as of June 2023 is marked at a mere 1.8.
John Hunt underscores the significance of this turning point in June 2023, indicating a future trend of diminished inventory levels. This discernible change is evident in both month-to-month and year-to-year statistical records.
Considering the usual seasonal pattern, inventory typically witnesses an upswing from May to June every year. Comparatively, the May to June increments for 2021 and 2022 were 26% and 38%, respectively. Notably, the inventory uptick from May to June this year merely stood at 6%, an indicator of a profound shift towards reduced inventory levels.
After registering negative values during the pandemic-induced housing boom, year-to-year inventory displayed a positive trend during the summer of 2022, correlated with the crossing of interest rates over the 5.25% Sensitivity Threshold. This shift brought a swift year-over-year increase in inventory, reaching its zenith in January 2023, reflecting double the inventory compared to January 2022. However, in a swift reversal, the year-to-year inventory experienced a substantial contraction in the first half of 2023, turning negative in June for the first time in 13 months.
Looking ahead to the latter part of 2023, John Hunt and MarketNsight offers the following projections:
New versus Resale Pending Sales
While total and resale pending sales are still in negative territory, pending sales for new construction continue to be very positive - up 48% year over year since February. Resale pending sales have been down 20% year to year over the same period.
This is the perfect environment for new homes to thrive. Demand is still 80% of what it was in 2022, and total inventory is now down year to year. Look for this trend to continue as long as rates are above 6%, and resale inventory remains so low.
New Home Market Share
New home market share growth year to year has moderated from the March high (+95%) but it has not been lower than 50% all year. New market share for the year to date is up an average of 67% over last year.
Additional projections:
Year-to-year overall housing demand has witnessed a 19% decline, and significant improvement is not anticipated until interest rates approach the sensitivity threshold of 5.25%.
Inventory is projected to tighten further in the upcoming quarters, intensifying the existing supply scarcity.
In response to some of these shortages, the new home industry is taking proactive measures, leading to a substantial increase in the market share of new homes.
Despite historically elevated mortgage rates, the stability of home prices has been remarkably sustained. As inventory starts contracting again, prices are projected to remain steady and potentially exhibit a slight increase within this year.
This newly unveiled data, as conveyed by Lori Lane, amplifies the pressing challenges that Georgia's housing market confronts. It underscores the continuous struggles with low inventory and demand dynamics. As Georgia navigates this intricate landscape, it is evident that collaborative efforts among various stakeholders are pivotal to shaping a brighter future where the aspiration of homeownership is not a distant dream but a tangible reality for every aspiring homebuyer.
Contact:
New Homes Division - Lori Lane of Berkshire Hathaway HomeServices GA Properties
Email: newhomes@bhhsgeorgia.com
Organization: Berkshire Hathaway HomeServices GA Properties
Address: 100 Mansell Court East Suite 115, Roswell, Georgia 30076
Phone: (678) 352-3314
Website: https://newhomesdivisionga.com
SOURCE: Berkshire Hathaway HomeServices GA Properties - New Homes Division